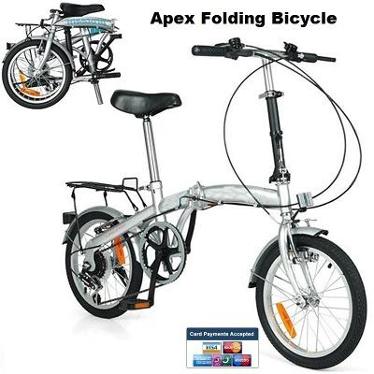 Apex folding bicycle, This folding bicycle offers quality and excellent portability with steel frame and a unique folding mechanism making it versatile and compact. Weights only 14kg so also very lightweight. The folding bicycle uses a 6 speed derailleur gear system. Also the folding bicycle as suspension and a comfort saddle with springs. Also the folding bicycle is fitted with reflectors on front and rear.Ideal to keep on a canal or narrowboat for use when needed.

This is on a very special offer at only £139.99 plus postage.
The Apex Folding Bicycle as excellent customer reviews
This folding bicycle is designed with the economy of the rider in mind. With 16 inch rims (which is on the smaller side for even most folding bikes), the APEX Folding Bike is ideal for any rider that is in need of a light weight bicycle that can be quickly assembled and folded into an easy to carry compact size. If you are looking for a ride that takes up as little space as possible, this may be your best bet.
What are the Key Features of the Apex Folding Bike Shimano 6 Speed with Rack & Fenders?
Smaller Wheels:
At first glance, the most noticeable feature would be the 16 inch wheels, significantly decreasing the size and weight of the bike. Particularly when folded.
Easy to Use safety latch:
A safety latch is equipped to ensure safety and quick folding / unfolding. This bike can easily be folded in under 15 seconds. Folds to: 12″ x 21″ x 29″ with a total weight of 32 lbs.
Steel Frame
It is designed with a great looking (almost Dahon-esque) durable steel alloy and aluminum handle bars for maximum support and stability. The frame is strong, and the curve provides a little cushioning over bumps in the road.
Multi Gears
The bike is a 6 speed bicycle that makes riding uphill a breeze with its Shimano 6 speed derailleur. Shimano is a solid reliable component manufacturer. These gears should prove reliable. The chain is housed in a plastic cover which will protect you and your clothing from oil coming from the chain.
Easy Fold Pedals
Contains platform peddles so that your feet will never slip while riding.
The Finishing Touches: Rack and Fenders!
Installed is a rear rack for carrying any object you may desire while still maintaining the ability to hold onto the handles with both hands.
Custom fenders are installed to protect the tires and wheel frame from any possible damage.
Review source http://www.thebiketoolbox.com/apex-folding-bike-shimano-6-speed-review/
Buy now at this low price while stocks last.
Current stock 12 Left